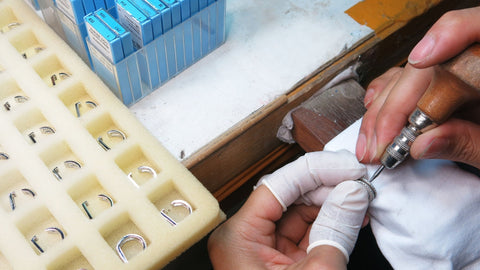 In a normal year I spend a lot of my time away from home. At least twice a year I am visiting our factory oversees to check on production, new designs and collections, and also to ensure that the factory is running ethically and that every employee that produces our jewellery is valued and looked after extremely well in every aspect of their working day. It is also important to us to have that human contact with each of our amazing silversmiths that work so hard to produce our Reeves & Reeves collections, something that must never be taken for granted.
I really miss the interaction with our teams, whether we are working through a design tweak, discussing initial drawings which will soon come to life into real, physical pieces, or looking forward to having lunch together and getting to know about their families and loves in their lives, which usually revolves around food, sport and children, in that order!
These artisans are integral to our creative business, and there is nothing more exciting than spending hour upon hour working on a new collection with them from inception of a beautiful drawing from Caroline's hand, to a cad image, right through to creating the finished piece of jewellery, a new best seller that is on the shelves of our fantastic retailers. This is something really magical about our industry.
So, as we hopefully start to come out of this extraordinary and difficult situation, I hope that we can all take a moment to reflect on how important and vital human interaction is; that we appreciate every moment shared with a fellow human being and we do not take anything for granted. We will always marvel at the skill and ingenuity of what can be achieved through teamwork.
Written by Heath Reeves
#teamwork #artisans #ethically #bestseller #food #friends #life #work #passion #jewellery #silversmiths #magical #skill #reevesandreeves