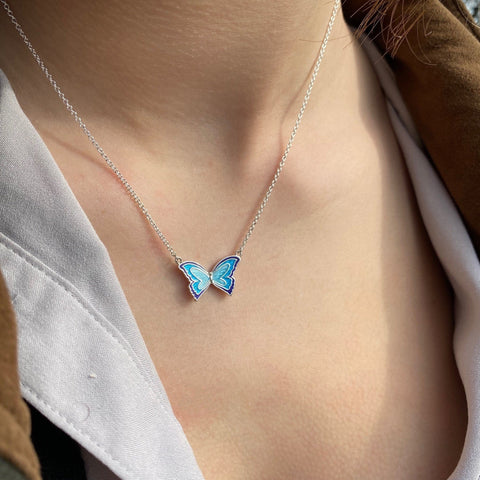 Enamel jewellery is a stunning way to add colour and glamour to any look. By combining enamel, which is a type of decorative coating made from powdered glass or minerals, with metals that are heated at high temperatures to fuse it for a durable and colourful coating, enamel jewellery can create a truly unique and stylish look. Whether it's an intricate necklace, delicate earrings, or a beautiful bracelet, enamel jewellery will add a special touch to any outfit. In this blog post, we will explore the beauty of enamel jewellery and how it can transform your style!
What is enamel jewellery?
Enamel jewellery is a type of jewellery that features a colourful and durable coating made from powdered glass or minerals. This coating is applied to metals like gold and silver and heated at high temperatures to fuse it onto the metal surface. The result is a vibrant, glossy, and often textured finish that can add an eye-catching pop of colour to any outfit. Enamel jewellery has been a popular decorative technique for centuries and can be found in various forms, including rings, necklaces, earrings, and bracelets.
History of enamel jewellery
Enamel jewellery has a rich history that dates back to ancient civilizations. The Egyptians were one of the earliest cultures to use enamel in their jewellery, primarily using it to decorate gold and silver. The Greeks and Romans also incorporated enamel in their jewellery designs, using it to add vibrant colours to their intricate pieces. In the Middle Ages, enamel jewellery became popular in Europe, with religious icons and scenes being a common theme. During the Renaissance, enamel work became more refined and was used to depict more secular subjects. Enamel jewellery continued to evolve over time, with Art Nouveau and Art Deco periods both featuring enamel designs in their distinctive styles. Today, enamel jewellery remains a popular choice for its unique beauty and durability.
How is enamel applied to jewellery?
Enamel is a versatile and durable coating that can be applied to various types of metals, including gold and silver. The process of applying enamel to jewellery is intricate and requires skill and precision.
First, the metal surface is cleaned and prepared for enamelling. This is essential for ensuring that the enamel adheres to the metal and creates a smooth, even surface. The enamel itself is made from powdered glass or minerals, which are mixed with a binder and applied to the metal surface.
To fuse the enamel to the metal, it is heated at high temperatures, often in a kiln or furnace. This process allows the enamel to melt and bond with the metal, creating a long-lasting and vibrant coating. The number of layers applied depends on the desired effect and the type of enamel being used.
Enamel can be applied in a variety of ways, including cloisonné, champlevé, and painted enamel. Each method requires different techniques and tools, but the result is always a stunning and unique piece of jewellery.
Overall, the process of applying enamel to jewellery requires patience, attention to detail, and skill. However, the result is a beautiful and timeless piece that adds colour and glamour to any look.
How to Care for Enamel Jewellery
Enamel jewellery is delicate, and as such, it requires special care and attention. With the right care, enamel jewellery can last for years and still maintain its vibrant colours. Here are a few tips to help you care for your enamel jewellery:
Keep your enamel jewellery away from harsh chemicals, such as cleaning agents and perfumes. These substances can cause damage to the enamel, and may even lead to discolouration.
When cleaning your enamel jewellery, avoid using abrasive materials like scouring pads or rough cloths. Instead, use a soft, lint-free cloth to wipe it down gently.
Store your enamel jewellery in a cool, dry place, away from direct sunlight and extreme temperatures. Moisture and heat can damage the enamel coating and cause it to crack or chip.
If your enamel jewellery does get damaged, avoid trying to repair it yourself. Instead, take it to a professional jeweller who has experience working with enamel and can fix it properly.
Regularly inspect your enamel jewellery for any signs of damage, such as cracks or chips. If you notice any damage, take it to a jeweller immediately for repair.
By following these simple tips, you can help ensure that your enamel jewellery remains vibrant and beautiful for years to come.
Enamel jewellery trends for 2023
Here are some potential trends to keep an eye out for:
Pastels: Soft, delicate colours like blush pink, powder blue, and lilac are expected to be popular choices for enamel jewellery in 2023. These muted hues will offer a subtle, feminine touch to any outfit.
Mixed Metals: Enamel jewellery can be made in a variety of metals, and in 2023, we expect to see more combinations of metals and colours. Look out for pieces that blend gold and silver, or even rose gold and black enamel.
Oversized Earrings: Statement earrings have been on-trend for a while, and enamel jewellery is no exception. Expect to see oversized enamel hoops, chandelier earrings, and geometric shapes that really make a statement.
Nature-Inspired Designs: As people become more eco-conscious, nature-inspired designs are likely to gain popularity. Think floral motifs, leaves, and even animals depicted in enamel jewellery.
Personalized Pieces: Enamel jewellery offers a lot of versatility when it comes to customisation, and we expect to see more personalized pieces in 2023. Look out for monogrammed enamel necklaces, birthstone rings with enamel accents, and enamel charms that can be added to a bracelet.
Overall, enamel jewellery is a versatile and beautiful option that is sure to add colour and glamour to any look. As we move into 2023, keep these trends in mind and don't be afraid to experiment with this gorgeous material!
#enameljewellery